Santillan Retreat and Wellness Centre was born from the seeds of an ancient Andalucian olive farm estate and later the renowned Hotel Molino de Santillán.
Set in a secluded location at the top of its own private valley looking to the sea, Santillán is a 5 hectare estate with our retreat centre at its heart.
Located in the peace of the Spanish countryside, and yet conveniently only 35 minutes from Malaga airport, you can immerse yourself in the peaceful sounds of nature in our lovely gardens and surrounding hills. It is the perfect setting for your yoga, meditation and activity retreat. Santillán was listed in The Times newspaper as one of the 20 Top Yoga Retreats in the World.
Santillán Retreat is owned and managed by the Marchini family alongside partner and resident yoga teacher Simon Low. Marta and Adriana are dedicated yoga students, and Adriana is now a qualified BWY & Yoga Alliance (US) yoga teacher and is Santillán's managing director.
For over 30 years the Marchini family has been building, beautifying and caring for Santillán and we are constantly told by guests that Santillán is their favourite and the best equipped retreat centre in Europe. We welcome teachers from all over the world to bring their groups here for training and retreats. We also host weddings and company meetings on special occasions. Our dharma is to unceasingly nurture the potential and enjoyment of Santillán and to continue to respectfully farm our extensive Andalusian farmland, all with our guests' best experience at heart.
Santillán has three large yoga sala, two indoor and one outdoor, and numerous additional spaces to meet, socialise, dine and relax. The renowned Carlo Classic studio includes a 24-station Great Yoga Wall. Studio Andaluz has two open wood-burning fires, and the stunning Garden Sala has views to the gardens and the sea. Santillán has 20 spacious en-suite bedrooms, massage and therapy spaces, a professional kitchen, four dining areas, numerous walking routes, and a paddle tennis court.
For relaxation time our extensive gardens and salt-water pool area offer many spaces to enjoy a nap, nature, the sun, company, or a good book, and wonderful star-gazing at night due to the reduced light in our countryside location.
Our team of family, local staff and beloved animals look forward to welcoming you to Santillán.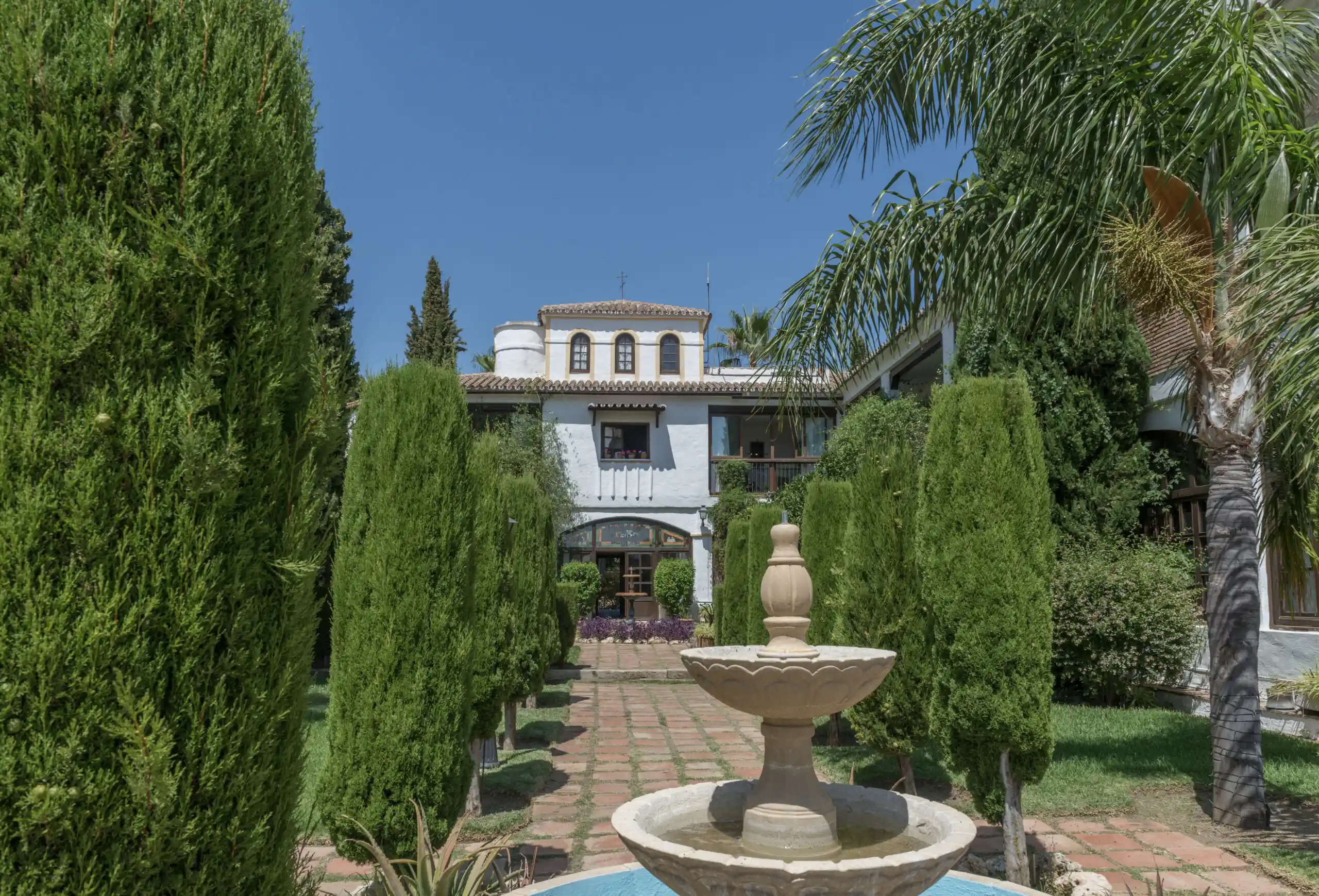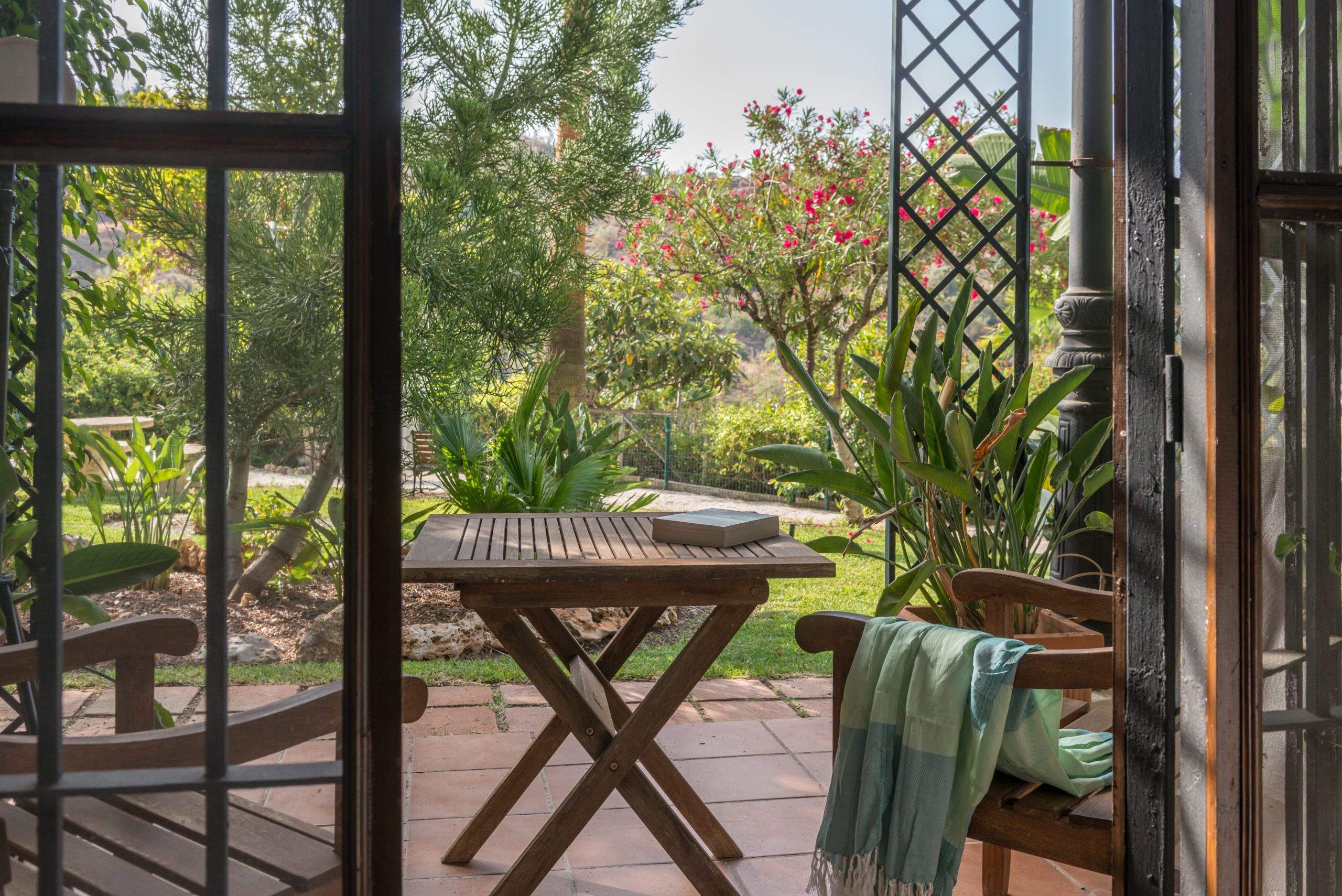 Our Story
Santillán's story began a few hundred years ago when the molino in the area known as Santillán became the local donkey-operated olive oil extraction plant, the original press stones and extraction devices still present in our gardens.
After a life-changing experience Carlo Marchini discovered the molino and surrounding valleys in the 1980's and decided to create a family-run countryside retreat hotel alongside a horticulture school, farm and greenhouses. Having moved family and business from Madrid to Malaga, Carlo's dream soon became reality as Hotel Molino del Santillán immediately became a very popular hotel and dining destination alongside the spectacular greenhouses and horticultural school. With its courtyards, fountains and terraces, jacarandas, palms and pines and peaceful location Santillán also quickly became a thriving wedding venue.
By 2002 Santillán had grown to twenty bedrooms, but Carlo's health was beginning to fail him and the hotel and restaurant effectively closed for a few years. During this time Santillán played host to the Dalai Lama, who stayed here on his way to and from the Buddhist monastery in Granada, and another seed for Santillan's growth was sown. The Dalai Lama not only facilitated Carlo a few more healthy years, but he and his close entourage encouraged the family to look inward and open Santillan's gates to retreats and spiritual seekers. They continue to support this mission today.
After Carlo eventually left this world his daughter Adriana left the music industry in Madrid and took on the responsibility of expanding on her father's creation.
Adriana decided to evolve the Santillán estate into a year-round retreat for yoga, meditation and wellness. Having met the renowned yoga teacher Simon Low via a mutual yoga friend, the partnership that would result in Santillán Yoga & Wellness Retreat was established.
Employing renowned architect Fernando Visedo Manzanares to create Simon and Adriana's vision, a world-class yoga studio and 24-station Great Yoga Wall with amazing countryside and sea-view vistas was constructed alongside the existing traditional Andalusian buildings.
 In 2016 Santillán Retreat opened for our first yoga retreats taught by Jeff Phenix, Simon Low and Eija Tervonen, since which time we have hosted over 100+ yoga and activity retreats at our uniquely special destination. We continue to write the Santillán story and invite you to feature in its pages.
Surroundings
Santillan it is situated in the mountains of the Axarquía, 15 minutes from the beaches of Rincon and 20 minutes from Málaga
Axarquia is Located in the easternmost part of the province, this is the province of Malaga. It is characterized by the diversity and proximity of its towns, where visitors can discover vast natural spaces ranging from mountain and long beaches, not to mention the excellent local gastronomy and its magnificent cultural and artistic heritage.
Its towns comprise picturesque havens which have managed to conserve the beauty of their streets, squares, monuments and popular festivals with a backdrop of light and color, and which coupled with its weather conditions and environmental attractions make this an ideal place to visit. For the lands of La Axarquia offer a landscape of incomparable variety: valleys, mountain ranges and coastline.
Andalucia
Santillan's location is unbeatable for people who want to know Andalusia, as it is very close to emblematic Andalucian cities known for their beauty and monuments such as:
Seville (La Giralda, Torre del Oro), located just 1 hour and 50 minutes away
Cordoba con la Mesquite, located just 1 hour and 50 minutes away
Granada with La Alhambra and Sierra Nevada, just 1 hour and 30 minutes away
Climate
Andalucía is the warmest region of Spain, and our local area boasts the highest level of warm sunlight hours in all of Europe. The Axarquía Costa del Sol climate is Mediterranean with mild winters, warm to hot summers and infrequent rainfall. This region's special climate is due to its geographic situation, protected to the north from cold winds by the Tejeda, Almijara and Alhama mountain ranges, and the warm Mediterranean Sea to the south.
The Mediterranean Sea's influence on temperatures is such that these do not vary much, either the ambient one or that of the sea; they are very pleasant all year round. The coastal area's climate is exceptional; the average temperature is 15º C in January and 25º C in August. The high proportion of hours of sunshine marks the cheerful, hospitable character of the region's people.